Brewpub in Kennebunkport, ME
Federal Jack's - Kennebunkport Brewing Company
8 Western Ave Ste 6
,
Kennebunkport
, ME
04043
https://www.federaljacks.com
(207) 967-4311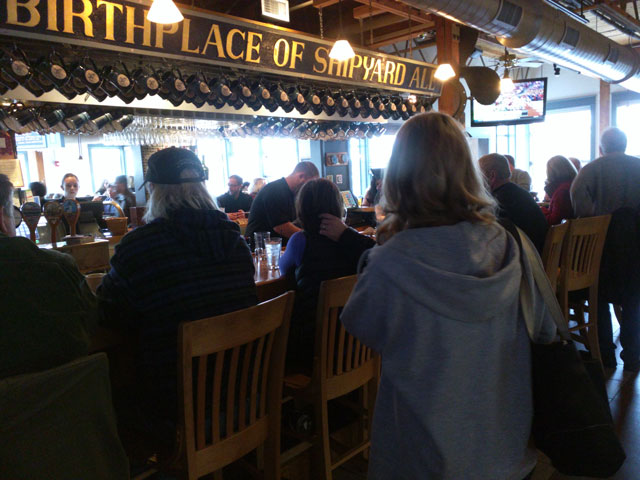 You could spend many an hour watching the boats arrive and depart at Federal Jack's prime Dock Square restaurant.
Federal Jack's - Kennebunkport Brewing Company FAQs
Does Federal Jack's - Kennebunkport Brewing Company serve food?
Yes. FJ's is a full-service restaurant.
Is Federal Jack's - Kennebunkport Brewing Company kid friendly?
Family friendly, kids are allowed.
Is Federal Jack's - Kennebunkport Brewing Company dog friendly?
We don't believe so.
Federal Jack's is a veteran among the many Kennebunk restaurants and Kennebunkport bars. Bars in Kennebunkport, Maine are like all other port town bars, packed with people trying to grab a pint. And what better place to serve them than to start a craft beer brewpub.
KBC brewing was founded in the early 90s, with the restaurant being named after a locally built ship. Federal Jack's is a family friendly full-service brewpub that really nails the views. With outdoor deck-level seating, and an indoor brewpub-as-a-restaurant vibe, there is something for everyone.
Dock Square parking availability has declined over the years, so you will probably have to valet the Caddie with a young 20-something.
Breweries near Federal Jack's in Kennebunkport, ME
Beer
What started in 1992 quickly blossomed into a distribution-quality production in Portland, the Shipyard Brewing Company. The Kennebunk Brewing Company does offer a tour, so check it out.
A few of their craft beers are:
Goat Island Light
Shipyard Blue Fin Stout
Shipyard Export Ale
Sunfish Wheat
Food
Seafood, obviously. Burgers and fries, typical American pub fare. And, a Sunday brunch. A decade and a half ago, they had a luxurious pineapple upside-down cake on the menu, if you will allow such a thing to be considered luxurious.