Federal Jack's - Kennebunkport Brewing Company
Brewpub in Kennebunkport, ME
You could spend many an hour watching the boats arrive and depart at Federal Jack's prime Dock Square restaurant.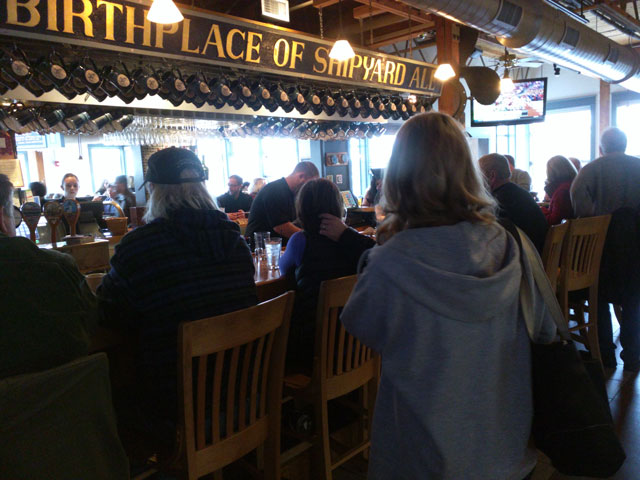 Federal Jack's is a veteran among the many Kennebunk restaurants and Kennebunkport bars. Bars in Kennebunkport, Maine are like all other port town bars, packed with people trying to grab a pint. And what better place to serve them than to start a craft beer brewpub.
KBC brewing was founded in the early 90s, with the restaurant being named after a locally built ship. Federal Jack's is a family friendly full-service brewpub that really nails the views. With outdoor deck-level seating, and an indoor brewpub-as-a-restaurant vibe, there is something for everyone.
Dock Square parking availability has declined over the years, so you will probably have to valet the Caddie with a young 20-something.
If there's no room at FJ's, try new tasting room, Batson River Brewing around the corner, Sebago Brewing Company down the road, or, Hidden Cove Brewing Company in next door Wells, ME.
Beer
What started in 1992 quickly blossomed into a distribution-quality production in Portland, the Shipyard Brewing Company. The Kennebunk Brewing Company does offer a tour, so check it out.
A few of their craft beers are:
Goat Island Light
Shipyard Blue Fin Stout
Shipyard Export Ale
Sunfish Wheat
Food
Seafood, obviously. Burgers and fries, typical American pub fare. And, a Sunday brunch. A decade and a half ago, they had a luxurious pineapple upside-down cake on the menu, if you will allow one to be considered luxurious.