Boy, Howdy! Get us guys a puppers.
Wayne, Katy Kat, Dary, and Squirrely Dan drink Puppers, and now you can too.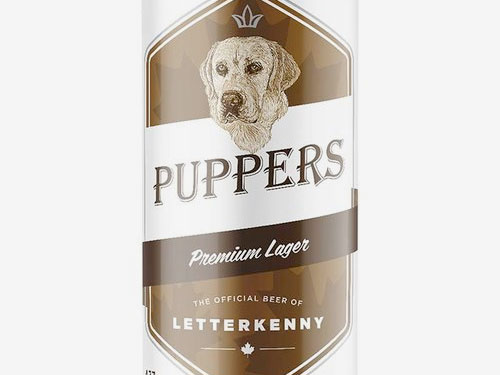 Made in Sudbury, Ontario by Stack Brewing, Puppers Beer is 4.0% abv (11 ibu) of premium light lager that is perfect for lawn mowing, hand sawing, trash-talking, glove-tossing, knuckle-dusting and rabble-rousing. You could buy it at the Stack Brewing taproom, as well as through the LCBO, the Liquor Control Board of Ontario (based out of Toronto).
About Puppers Beer
You don't need to be the toughest guy in Letterkenny to enjoy a few Puppers. To be fair, you don't even need to be a guy to enjoy this easy drinking golden lager. Hell, you could even by 10-ply.
For all you Letterkenny Pheasants, the lager itself is good for all day drinking, whether that's after some early morning yardwork, or it's dowsing your liver during a NHL best of 7. Actually, better to toss a few Puppers down the gullet than to rip too many pulls off the ol' Gus N' Bru bottle (pronounced Gussenbrew). If not, you might miss Period 3 of Game 7.
Word on the street is that Puppers has a satisfying taste, if a bit bready and grainy. All in all, it's a good beer, or so we're told. If Daryl can drink it, you can too. To be fair, it's better than drinking Donkey Juice.
About Letterkenny, the tv show
It seems like just about every other scene Wayne & crew are polishing off a few Puppers. K. Trevor Wilson, who plays Squirrely Dan, and Daryl are the ideal compliments to straight man Wayne. Letterkenny, the first original series by CraveTV, is loosely about Jared Keeso's (Wayne) small rural hometown in pastoral Ontario.
Also, how many smokes does Wayne rip through? The answer is as many smokes as shots of Gus N' Bru whiskey, down the hatch!
For those wondering, it seems Gus N' Bru is the official Letterkenny liquor.
Stack Brewing is a craft beer brewery that is one of Sudbury's half dozen or so. Puppers was a limited release for the brewery. If it's ever available, you better get on it. You can probably buy Puppers Beer online from Stack Brewing.
Is Puppers a real beer?
Yes, it is made by Stack Brewing in Sudbury, ON. It was a fictional beer from CraveTV's Letterkenny. Stack Brewing made it real.
What does it say on the back of the Puppers Beer can?
People, persons, peasants, pheasants. We proudly present a palate pleasing potion for pals parched proper. Pertnear the whole population'll be pilin'up to partake promptly... so pitter-patter, parnter. Puppers. Perfect.
Can you get Puppers Beer in the USA?
Google suggests that it's near impossible to acquire Puppers Beer in the USA without driving up to Stack Brewing in Sudbury and acquiring it yourself.
Puppers Beer merch
Plenty of it. Get yourself a Puppers Beer t-shirt on Amazon.