The Big Lake was made for beer drinking.
Lakes Region (NH) breweries are brewing mighty fine craft beer, from the Lone Wolfe Brewing Company in Wolfeboro to ultra-local nanobrewery Squam Brewing.
Lakes Region Breweries (NH)
If you find yourself strolling around the Granite State with some free state and a thirst to quench, you should check out The Lakes Region craft beer scene. Burnt Timber Brewing is an excellent stop on the east side of Lake Winnipesaukee, while Kettlehead, Shacketts, and White Mountain Brewing are worthwhile on the west.
If you do stop at White Mtn, tell Steve the Bartender we say hi.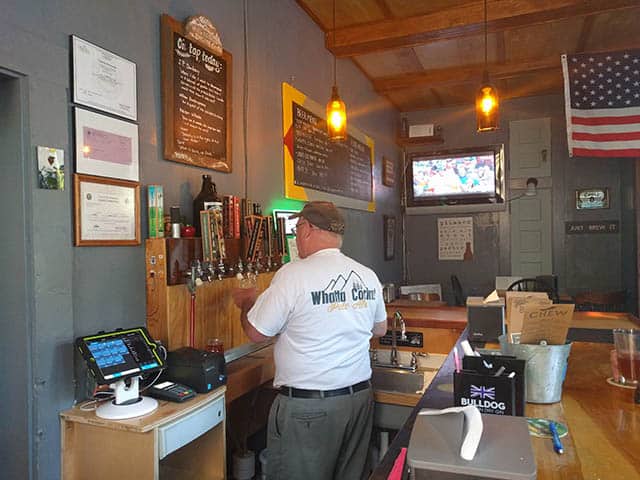 The Lakes Region is an area that centers around Lake Winnipesaukee and extends outward, encapsulating several towns that border the very towns that border the lake. From swimming and boating on the big lake in the summertime, to leaf peeping in the fall, downhill and cross country skiing in the winter, and hiking miles upon miles of trails in the spring, the Lakes Region boasts a rich, four-season way of life. So it should come as no surprise that the region's craft brewers brew a variety of seasonal beers that complement the time of year.
It should also come as no surprise that some of the very best New Hampshire breweries come from The Lakes Region.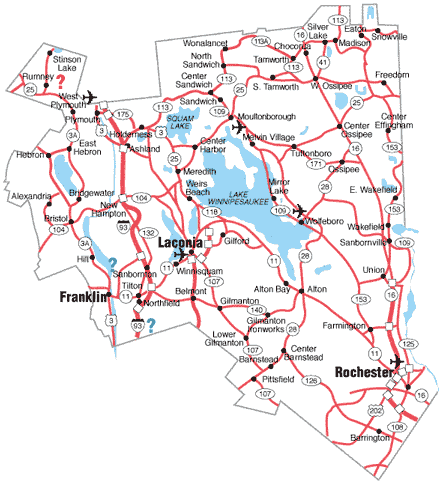 From Rochester to Rumney, Tilton to Tamworth, the Lakes Region has much more to offer than just recreational water fun. There is Funspot in Laconia, dubbed the world's largest arcarde a decade ago. Castle in the Clouds in Moultonborough, a mountaintop estate that offers expansive, southern views of The Lakes Region (as well as Castle Springs Brewery). And Wolfeboro, long dubbed, "The Oldest Summer Resort in America". Each of these places represent the multi-faceted nature of the Lakes Region and the types of activities and fun that can be had.
Perhaps best of all is Gunstock, a serviceable downhill ski mountain that boasts not only 55 trails, but night skiing on almost half of them. If you were to drive a line through the vertical and horizontal middle of a Lakes Region map, Gunstock would very nearly occupy the center point.
Lakes Region Brewery Tour recap
It has been a great adventure. Getting to experience local craft brewers build a thriving business without the aid and benefit of a major city is exciting to watch. Getting to drink their beer is even better.
Speaking of the beer, here is the Lakes Region Beer Flight, one beer from each of the Lakes Region breweries. As I visit more, this could change. But for now, here they are.
A Lakes Region Beer Flight
Lone Wolfe Brewing Company - Dipp'ah - double IPA
Squam Brewing - Mountain View Red - "Irish style" red ale
Kettlehead Brewing Company - Pineapple Funk - sour
Burnt Timber Brewing & Tavern - Barley & Bees - blackberry braggot
White Mountain Brewing - Redneck Red - ale
Shacketts Brewing Company - Hornet Cove Wheat - wheat ale
Hobbs Tavern - Lil' Gray - grisette
Twin Barns Brewing - Lake Cruiser - double IPA
Lakes Region Breweries left to visit
And to all the rest of you New Hampshire Breweries ... don't worry, you're on the list. Just let us know when your Happy Hour starts!
The Lakes Region is currently home to 12 microbreweries and taprooms
We counted mead, but not wine. Put some pins in your NH Brewery Map and visit the breweries below: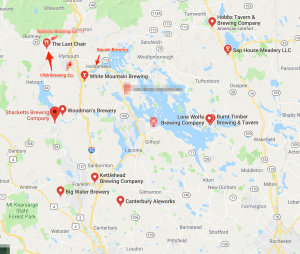 Having visited eight of the New Hampshire breweries, we can honestly say that the Lakes Region is in better beer shape than ever. Though I do miss the days of watching electric blue Vuarnet tank top wearing frat boys driving their Dad's Formula cigarette boat with twin 500s to the Braun Bay sandbar to suck down a few cold Michelob's.
Enjoy! And support all New Hampshire Breweries!